In the past month: Expo 2020 in Dubai has (finally!) been in full swing, the queen of pop, Taylor Swift, dropped her (kinda) new album, and North America and Europe have been adjusting to their clocks going back. And, dare we say it, there might be a smidge of festive spirit in the air.
In particular, these language and culture-related stories caught our eye.
Hans Zimmer's got us whistling a brand new Dune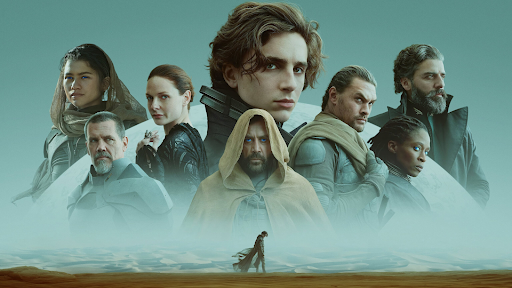 Even under-rock dwellers will have struggled not to hear about Denis Villenueve's latest epic science fiction film, Dune.
Not only is the cast made up of an Avengers-level team of Hollywood heavyweights (including a whole SEVEN-MINUTE appearance of everyone's favourite Spidey spouse, Zendaya - that's 4.5% of the film if you're being seriously pernickety, which apparently some people are), but God-tier composer Hans Zimmer has created a soundtrack unlike any other. In fact, he's basically made up a whole new musical language.
Zimmer spent a year studying women's voices and working with a global band of music buffs to compose the score, which includes the undeniably soothing sounds of metal being scraped, war horns being tooted, and voices so falsetto they defy biology. The outcome? A hauntingly ethereal mash-up that sounds like the lovechild of Gladiator and Blade Runner. Now there's a kid you don't want to mess with.
So far, the reactions to Dune have been mixed. But with a cast and soundtrack worth their weight in cinematic gold, it's not one to miss.
Ink for the indecisive is here (for a while anyway...)
It's tough to make big life decisions, and it's even tougher when, once you make your choice, there's no going back. For some, the decision to get a permanent tattoo is easy, and lets them represent their personality and beliefs in one cool swoop. But if you're the kind of person who can't pick what they want for breakfast, or you're scared that that edgy Chinese symbol might not mean exactly what you think it means, then a New York ink studio might have the solution.
Williamsburg-based Ephemeral, offers 'made-to-fade' tattoos. They look like the real deal, they test your pain threshold in the same way, and you pay roughly the same amount for the privilege. But here's the kicker...they're designed to disappear after a year.

Of course, if you genuinely did mean to ink your favourite Chinese dish on your tricep, this might not be the one for you.
We have a new Word of the Year! And over 400 words have made the dictionary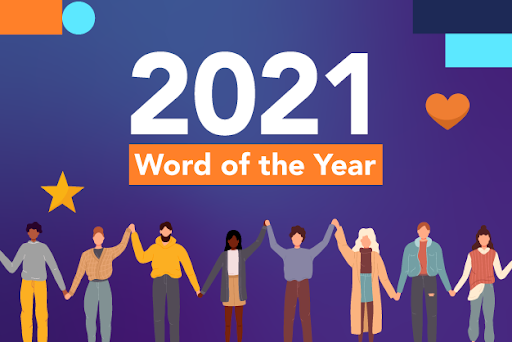 Last year, the word nerds behind the Oxford English Dictionary's Word of the Year decided (quite rightly) that no single word could quite sum up that, erm, 💩show. How the right word didn't jump out at them immediately *cough* unprecedented *cough* escapes us. But to be fair, we'd all heard quite enough of that.
In 2021 however, there was only one word on everyone's lips. Pre-covid, 'vax' was nothing more than a fancy vacuum cleaner brand in the UK. Now, we say 'are you double-vaxxed?' more often than we ask for the time. We live near vax centres, we carry vax passes, and 'vaxxed and waxed' even got its own Instagram sticker. We'd probably steer clear of searching for it, though.
Merriam-Webster has also added a whopping 445 new words and definitions to the dictionary. We're talking about everything from the excessive sincerity of Gen Z's 'TBH', to some severe millennial ups and downs. Now fully-fledged members of the turned-30 crew, the M crowd's beloved 'air fryer' is getting a bit too cosy with their 'dad bod'. But hey, at least bit-rot's still a few years away.
Our personal fave? Copypasta. Because anything that hints at a never-ending stash of carbs is a winner in our eyes.
Can binging Netflix help language learners speak the lingo sooner?
It's widely accepted in lofty language circles that regular exposure to a foreign tongue will help the learner absorb new vocabulary more quickly and easily. One way of doing this is by watching movies and tv shows, as learners can gain context and experience to use as memory anchors. Through subtitles you can figure out which words are being repeated, and the ongoing exposure will help shape your accent.
With that in mind, it stands to reason that those back-to-back Netflix and Prime binges could be a positive influence when it comes to learning a new language - even if not quite so positive for your eyesight, sleeping pattern and electric bill.
Fancy brushing up on your Korean? There's this great new game show with a sea creature you might have heard of...
---
And that's all for this edition of What's the Word? Every month we round up some of the coolest things that are happening around the world and share them with you in the hope reading them will quench your language and general knowledge-seeking thirst just a little bit. Catch you next time!