Korean is one of the coolest languages to learn right now. But what's the hype? And why are so many people feeling super motivated to learn Korean?
Bustling cities. Seoul's sensual street markets. Mouth-watering foods like bibimbap and Korean fried chicken. Lush landscapes. Countless cultural attractions. Friendly locals. These are just some of the reasons people want to learn Korean… And we could go on. Trust us.
But more than anything: The "Korean Wave" is inspiring people to learn Korean. Nope, we're not talking about a tsunami… This is Korea's popular culture – and particularly it's 'K-Pop' music, Korean TV dramas and Korean films.
Parasite film (2020) – Winner of 6 Academy Awards
Above all, K-Pop band BTS have sent learning Korean through the roof. Every day, more and more people want to learn Korean to understand their favourite songs and so learn Korean language with BTS songs. Right now in the US: our app's Korean course is the 2nd most popular language to learn (ranking consistently above French and Japanese).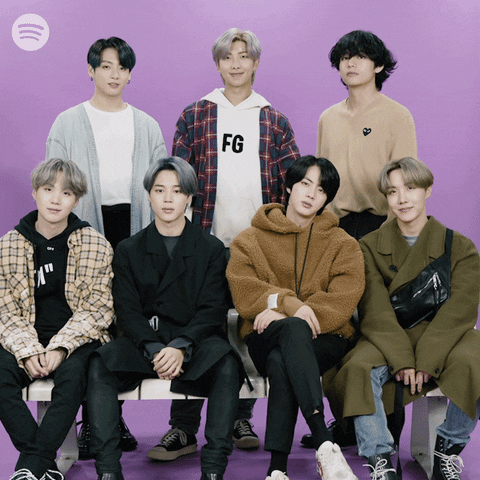 BTS: The biggest boyband in the world.
The seven-member South Korean boyband (방탄소년단) have set the world alight with their catchy pop tunes. And there's even a name for their huge fan base: 'The BTS Army'.
To get an idea of the craze…Their single 'Dynamite' broke the record for the most viewed YouTube video in 24 hours with 101.1 million views. And their new release 'Butter' was watched by 10 million people in just 21 minutes.
Enjoy that? Here's how to say: 'this new song is really cool!'
To watch & listen to more fun clips of Korean native speakers – sign up to our Korean course today.
How to learn Korean with BTS songs
Listening to music is a great way to help you learn Korean. Want a short and sharp learning session? Something fun that you can do while dancing around your kitchen? You've come to the right place.
Grab your headphones or turn on your speaker. Because here's how it works...
Doing something you enjoy in another language helps you learn that language!
Learning another language through something you're genuinely interested in is a great way to keep motivated (and have fun). Can't stop listening to music? Then why only listen in one language? You can learn Korean with BTS lyrics because they immerse you in Korean language.
Active listening improves your Korean by making your brain work hard to discover the meaning of the language – helping you understand the language structure.

Following BTS lyrics while you listen will adjust your brain to Korean pronunciation, vocabulary and grammar.

You listen to real words & phrases sung how native speakers say them naturally, instead of how they would sound spoken aloud from a textbook.

It's super fun and easy: Download some songs and listen on your next walk, or while you make dinner!
Extra Tip: Read BTS social media and fan pages to practice your Korean reading – and see if you can spot lyrics you recognise.
What is "Learn Korean with BTS"?
That's right. There's even an official 'Learn Korean with BTS' program. A series of videos that encourage fans to understand the band's songs better. But you don't need to get your hands on a 'Learn Korean with BTS' app, book or pdf download to learn Korean through music.
You can listen to their songs on YouTube or Spotify. Plus there are way more options than learning Korean with BTS as your K-Pop. Why not check out other K-Pop stars like BLACKPINK, SuperM and Girl's Generation?
But let's be clear:
Listening to K-Pop songs is a useful exercise to add to your Korean learning, for sure. But you need more than just K-Pop to become a competent Korean speaker.
Why learn Korean with Memrise?
Our app throws you into the heart of South Korea from the comfort of your bedroom… during your train ride… or while zoning out of a work call (just don't tell anyone...)

We mean it. You can learn at any time and from any place (and even without Wifi and mobile data if you download our Korean course or sections of it in advance).
Video and audio clips of native Korean speakers teach you the language that you're most likely to use in different situations in South Korea. This means after you practice some speaking at home (with our app's speech exercises) – you'll land in Korea with a load of words & phrases in your back pocket – and the confidence to speak them. Sound good?
Our courses are a LOT of fun: just ask our 50 million other learners. Only learn real language, to speak in real life, with real people. It's that simple.
Feeling inspired? Start learning Korean in less than 5 minutes… by clicking below.