There's nothing quite like a global pandemic to make you rethink your priorities. Following the Year That Must Not Be Named (2020), one of the biggest shake-ups for many people has been, without a doubt, career-based.
People left their jobs in droves. This ongoing trend peaked in spring 2021, which has since been dubbed 'The Great Resignation' due to just how overwhelming the number of employees deciding to move on to pastures new was. Fuelled, quite simply, by the sudden realisation that life is too damn short, workers from every industry were taking time between jobs to gain new skills, enjoying extended sabbaticals abroad to spend time doing what they love. Some even applied for roles overseas.
We no longer live to work. Gone are the days of sticking to what you know, it's now quite the opposite. Nothing's going to hold us back, baby! Now, it's all about hybrid working, nomadic living, and learning something new every day. And we can do this from anywhere, and everywhere.
Making a career change in the new year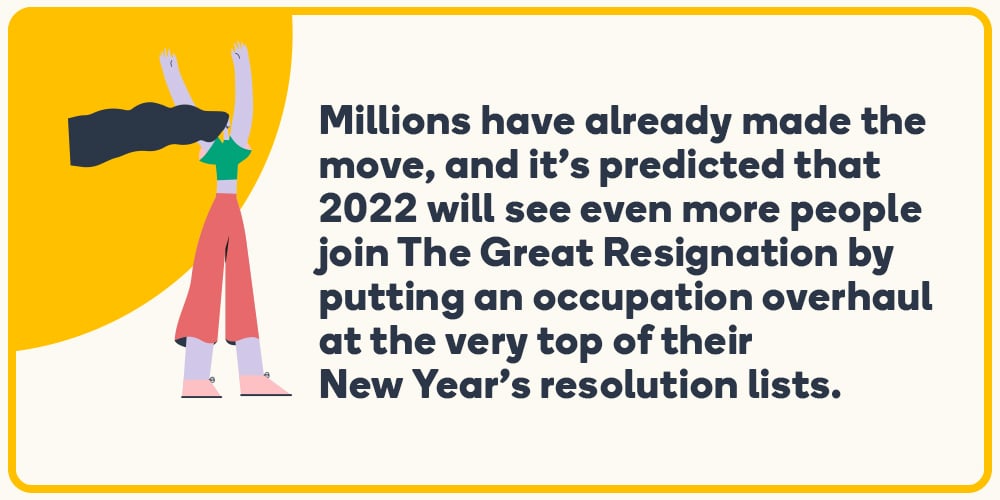 According to the U.S. Bureau of Labor Statistics, 4.4 million Americans quit their jobs in September 2021 alone. In the UK, official figures show a million people moved jobs in the three months to September.
It can be daunting to make a career change, especially if you're looking to move to a job you have little or no experience doing. But there's never been a better time to dive in than right now. The job market is fluid, with employees being upfront about their refreshed wants and needs, and employers rallying to meet them. That being said, it's important to make sure you're bringing the right skills and experience to the interview table, to give yourself an edge over the competition.
So, as we head into another new year packed with fresh opportunities (and, with any luck, zero fresh pandemics), could a personal power-up like learning a new language help you land your dream gig?
Benefits of learning a new language
Studies have shown that a second language can definitely improve your employability. Job seekers who speak a second language often get hired more quickly and can climb the corporate ladder faster than their peers who speak only one language. Speaking another language lets prospective employers know several important things about you. It demonstrates curiosity about other people and cultures, as well as the ability to work hard to communicate with them effectively.
Of course, every new skill is a good skill, but the benefits of learning a new language is that it can help take you further than ever before - and not just geographically.
Firstly, learning a language can give you an edge when applying for new roles. It's a great way to improve your brain function, supercharge your memory, and get your creative juices in full flow (we should know, our Founder is a memory champion).
Second, knowing a second or multiple languages can make you more employable. Employers value people with second or multiple languages because these skills can come in handy with closing overseas deals, exploring new business opportunities, and even establishing brand new offices in other countries. This could be leverage for you to potentially negotiate a higher salary in your contract, as well as opening up opportunities to travel as part of your position.
Going one step (or a few thousand miles) further, knowing how to speak the local lingo in the country you want to move to can also give you the chance to go abroad for work permanently. Forget filtering your job search to just English-speaking countries - you could say hello (or hola, zdravo, or konnichiwa) to a brand new kind of oyster. One where you don't need to juggle fitting into a new company and struggling to get by with only a tourist phrasebook helping you communicate with the locals. Instead, you can fly in already fluent - or at the very least, armed with basic conversation tools and key phrases that help you build important relationships with your colleagues and clients.
If a full-on relocation is in the pipeline for you, it's best to get all the need-to-know greetings and sayings nailed so you're ready for your first day on the job. As the purveyors of learning useful phrases, we've stacked those important phrases into the first lessons when you learn a language with our app (lovingly dubbed as "Survival Kits").
As an added bonus, learning a new language can also help you really connect with your new colleagues in the office. Our workplaces are more awesomely diverse and multicultural than ever, and being bilingual is a great way of meeting and making friends with new people who, otherwise, you might not get to know so well. After all, there's nothing more awkward than the "I have no idea what you're saying" silence.
So, with a fresh set of phrases under your belt - and no bumper book of translations weighing you down - you can hit the ground running in your new job and, if you've made the really big jump, your new life.
Other ways to achieve that elusive work life balance
Why did so many people quit at the same time, anyway? At the core of The Great Resignation is a collective realisation and understanding of the importance of work life balance. Millions of people quitting their jobs is the result of everyone looking at how to take charge of their time and improve quality of life all at once, and a clear reaction to the pandemic.
If you're reading this, chances are you're considering finding that balance yourself. Before you decide on joining the ranks of The Great Resignation, try these and see if they bring you the balance you are looking for:
Set boundaries between work and personal time
A lot of people burn out from feeling like they're permanently connected to their jobs. By creating boundaries between your work and personal life hours, it will help you mentally give yourself permission to relax and pursue your own personal developments.
This is so important, a province in Canada has just made it into law.
Set aside time to learn something new
Picking up a new skill or hobby can also help you find better balance. Once you've booked in time for that new martial arts class, you'll definitely make sure you step away from work and make time to work on your roundhouse kicks.
If martial arts seem a bit much and learning a new language is more your cup of tea, we got you.
Maybe a four-day week?
If you have a more progressive employer, you could perhaps discuss with them the possibility of a four-day work week. Having that extra day will give you time not just to relax, but to do those chores that always get put aside. Just make sure you get all your work done!
The importance of wellbeing and work life balance is so universal now, you need to figure out what suits you, and go after it. Remember, we're all different - if more money isn't your main priority, that's absolutely fine. After all, time can be a lot more valuable in the long run.
A checklist before going after that new job
Ready to go get that new job? As well as flexing your language-learning muscles, it's important to cover the job-hunting basics too. Here's a checklist of what you should have:
Make sure your CV or resume is up to date and perfect your personal pitch. Get application-ready by making sure you've listed all your key skills and sprucing up your cover letter. And take extra time to practice your interview technique.
Prepare for interviews is to jot down detailed questions you want to ask hiring managers. The work landscape is miles away from where it once was, and prospective employees have a much louder voice in negotiations. Find out about the company culture, check in on diversity policies, be clear about where you'd like to be located, and ask for specifics around benefits and rewards.
Soft-skills are valued more than ever - if you're learning a new language, make sure you put that down and let them know in the interview!


Is learning a new language part of your career change plans?
If learning a new language is part of your new year resolutions in 2022, we've got you. Here at Memrise, we'd love to help you get started on your language journey and give you the tools you need to take your career wherever you want it to go.
Sign up here now and start learning one of the over 20 languages we teach on our app. You'll learn phrases that are not only important to know, but say them how the locals really do. With thousands of videos of native speakers showing you how it's done, you could be saying "buena suerte!" to your new Spanish colleagues before you know it!